François Allisson
historian of economic thought
Cekhanoveckij, Grigorij Matveevich (1833–1898)
Cekhanoveckij is a rather unknown figure in the history of Ukrainian/Russian economic thought. Considered as an erudite who wrote very few, he was a professor of political economy at the Kiev Imperial University, before moving to the University of Kharkov, where he was for some time its rector (a duty which gave us his painted portrait).
What is interesting is that he was one of the professors of political economy of N. I. Sieber in Kiev in the late 1850s–early 1860s (together with N. Kh. Bunge), and one of the professors of political economy of M. I. Tugan-Baranovsky in the late 1880s in Kharkov (together with I. I. Janzhul).
Most of his publications:
The Importance of Adam Smith in the History of the Politico-Economic System. Magister Dissertation, Kiev, 1859 (in Russian, 80 pages).
"A Short Course of Political Economy", Univ. Izvesta, Kiev, 1866, no 3–4 (in Russian, 75 pages).
Railways and the State. Doctoral dissertation, Kiev, 1869 (in Russian, 257 pages).
"Discussions of dissertations. N. Sieber. Ricardo's Theory of Value and Capital, etc.", Univ. Izvesta, Kiev, 1871, no 11 (in Russian, 4 pages).
Any addition to this list is much welcomed!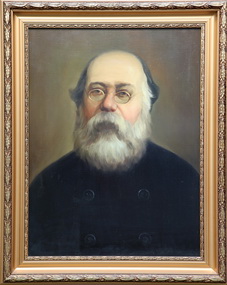 Source: V. N. Karazin Kharkiv National University, History, List of Rectors.